UO > About > Organizational Structure > Faculties & Institutes > Faculty of Science > About > Organizational Structure > Departments & Centres > Department of Informatics and Computers
František Huňka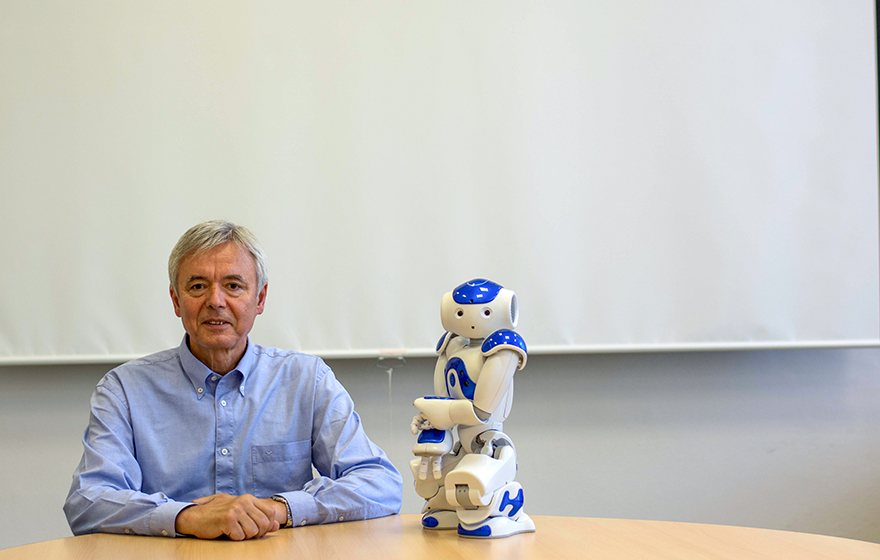 Academic degree, name, surname:
doc. Ing. František Huňka, CSc.
Research interests and teaching:
Phone number, mobile:
+420 553 46 2175
No record found. Database Maintenance.
Ševčík Jaroslav
Value Oriented Business Process Modeling
Meliš Zdeněk
Domain-specific modeling of business processes
Žáček Jaroslav
Development environment based on visual programming and metamodeling
Žáček Jaroslav
Migration Methodology of JSR-168 and JSR-286 Portal Standards
Pelleš Jiří
Database Consistency Utilizing ORM Approach
Bělunek Roman
Patern-oriented software architecture
Matula Jiří
Persistent application container for PHP platform
Klimeš Lubomír
Composite applications in information and control systems
Sklář Petr
Modeling and Designing Accounting Systems
Kanis Martin
Solving JQuery and Wicket framework integration problems
Mikoláš Michal
Design patterns used for web applications development
Petruželka Filip
Document-oriented database
Kulhánek Ladislav
Using JBoss for J2EE Distributed Applications
Mannsbarth Martin
Creating users application by using Visual Basic for easy handling with database MS Access
Šmidla Bohuslav
Operation control system of the family houses
Šperka Roman
Multiagents Systems and their Utilization in Business Process Modeling
Kaiserová Šárka
Student testing system with the possibility of user adaptation
Škopík Dušan
Transaction Processing in Distributed Applications
Ševčík Jaroslav
Comparison of object-relational mapping with object-oriented approach
Valčuha Josef
Usage platform J2ME for applications in mobile phones
Polachová Petra
Object and relation access of Java to database Caché
Robenek Jiří
Comparison of relation and postrelation design of IS for concrete application
Cachnín Michal
Temporal databasis and their implementation
Loprais Radomír
Design and implementation of information system for service station management using postrelational database Caché
Lukáš Stanislav
Utilize environment J-Sim to simulation
Stojová Kateřina
Information System for Educational Evaluation
Mojžíš Jan
Design and implementation of an electronics store information system
Pelleš Jiří
REA Model Unitization in Database Application Development
Bělunek Roman
Framework for developing applications in PHP
Kráčalíková Markéta
Validation of personal data
Matula Jiří
Developing web applications in a distributed environment
Punčochář Vladimír
Application desing and implementation for events collection and archivation in MS Windows network
Lapčík Miroslav
Design and Implementation of Information System for Classroom Developement and Management in Language School
Antala Roman
Extended Design Patterns and their Implementation in Java
Hlobil Adam
Constructive design patterns and its implementation in Java.
Mertl Jan
Use of Design Patterns in the Field of Computer Processing of Digital Photography
Petruželka Filip
Family Estate Agent System
Šmidla Bohuslav
Temperature Control System in Family Houses
Švrček Vlastimil
JDBC and Its Use for Object - Relational Mapping
Toman Marek
Design and Implementation of the Information System for Shop and Store Management
Vávra Adam
Information System and Program Design Optimizing Mobile Rates in a Company
Kaiserová Šárka
Testing system by using Java language
Kulhánek Ladislav
Authomatic Build Tools And Their Practise Use
Sobek Martin
Network communication with using Java
Endl Martin
Complex management and service of large projects
Holub Lubomír
Eclipse SDK and graphic user-interface library SWT
Kožela Lukáš
Inner Classes and Their Possibilities in JAVA Language
Mališová Lenka
Unit testing - method of java code testing
Valčuha Josef
Design patterns Adapter and State - learning text processing with illustrations
Mojžíš Lubomír
Comparison of object programming languages (C++, Java, Beta)
Neumann Petr
Design patterns and their utilization in graphics application interface in Java packages.
Polachová Petra
Evaluation of suitability of Integrated development environment BlueJ, Eclipse, JBuilder, JCreator and jGRASP for instruction OOP in Java