UO > About > Organizational Structure > Faculties & Institutes > Faculty of Science > About > Organizational Structure > Departments & Centres > Department of Informatics and Computers
Jaroslav Žáček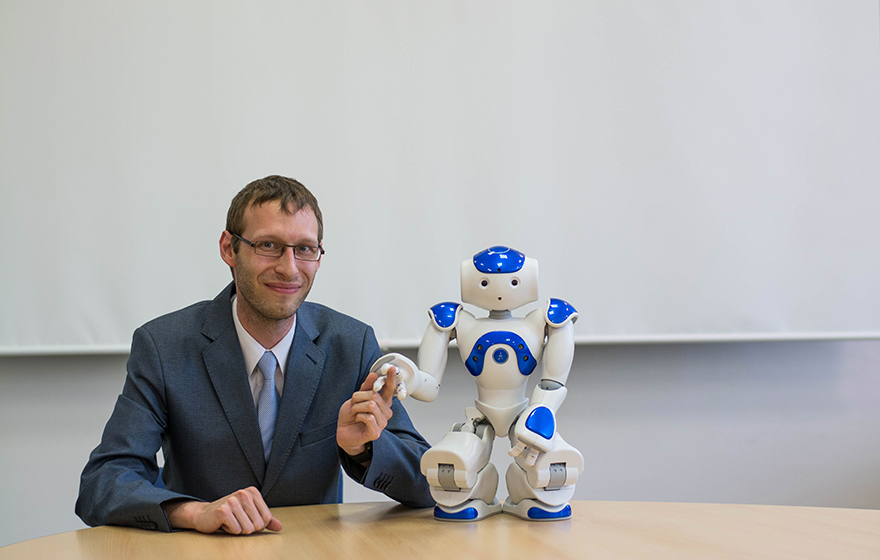 Academic degree, name, surname:
RNDr. Jaroslav Žáček, Ph.D.
Research interests and teaching:
Phone number, mobile:
+420 553 46 2186
No record found. Database Maintenance.
Mojžíš Jan
Effectiveness of web applications communication
Gazda Tomáš
Implementing Cognitive Functions for humanoid robot
Kletenský Lubomír
Plugin development for Visual Studion
Baránek Vojtěch
Developing practices in JavaScript ecosystem with focus on SPA
Hardt Filip
Design and implementation of BI system to support decision making
Zedek Filip
Web application for language learning
Goiš Jakub
Automated generation of user documentation based on Selenium functional testing
Malina Marek
Quadrocopter controll via gestures
Šebestík Ondřej
Smart home automation based on single-board computers
Tomeček Jaromír
Methodology of implementing the interactive application concept into the old web-based applications
Fuchs Zdeněk
Implementing agile and lean principles in ITIL Service Desk solutions
Glac Libor
Implementing a cognitive functions for humanoid robots
Kostelecký Michal
Using a space state search to create a vector space map performed by a humanoid robot
Pross Jan
Database management system choosing methodology to ensure persistence of the object-oriented application based on the application data structure
Brachaczková Lenka
Design an Information System for bookstore domain
Karas Petr
Planning and application of branching and merging strategies in configuration management discipline
Rolníková Veronika
Identifying the best practices of IT security for a small business segment
Rončka Václav
Application of automated testing on projects with minimal software documentation
Bosák Robert
Design a methodology to improve user experience in existing web applications
Kačer Pavel
Using declarative approach to extend agile software development process
Pšenica Martin
Integrating the best practice from conceptual modeling to agile software development
Ryška Ondřej
Optimization of information systems in the cloud by using AJAX
Ambrož Jiří
Web Services integration to application servers
Ovesný Radim
Automation of tools and machines recording in a manufacturing company
Mlích Matúš
Automating web application deployment process for cloud environment
Kapustová Anna
Big Data in aviation industry
Marhan Karel
Effectiveness of SQL programming in relation to Business Intelligence and decision making
Folwarczny Kamil
Application for managing reduced rotating targets in shooting ranges
Kilian Zdeněk
Stateful communication protocol library
Kotuláč Martin
Web-based inn management system
Nohel Petr
Building an intelligent house using single-board computers
Handzelová Beáta
Creating a workbook to improve knowledge in computer networking devices
Malina Marek
Windows Phone voice control capable applications
Štěpánek Daniel
The influence of technical specifications on transmission speed of SOHO wireless routers
Waśniowski Jiří
Boosting web applications by integrating a JavaScript Framework
Duroň Lumír
Desing and implementing the information system focused on financial domain
Kostelecký Michal
Design and implementation of visual tool to support teaching of CNC machine programming
Kubalová Alena
Knowledge management implementation into the IT company
Michna Daniel
Design and implementation of information system for hospitality service domain
Řepka Martin
Design and implementation of an information system focused to resource reservation
Tříska Jakub
Design and implementation of interface for map visualization from external data sources
Karas Petr
Návrh metodiky pro automatizaci procesů v disciplíně Konfigurace a správa verzí
Piš Milan
Programming application in social network
Sosnovec Jiří
Lean and Lean Development practices under server implementation process
Král Jan
Design and implementation of communication client for Eclipse IDE
Main solver
RNDr. Jaroslav Žáček, Ph.D.
Provider
Specifický VŠ výzkum