UO > About > Organizational Structure > Faculties & Institutes > Faculty of Science > About > Organizational Structure > Departments & Centres > Department of Informatics and Computers
Marek Vajgl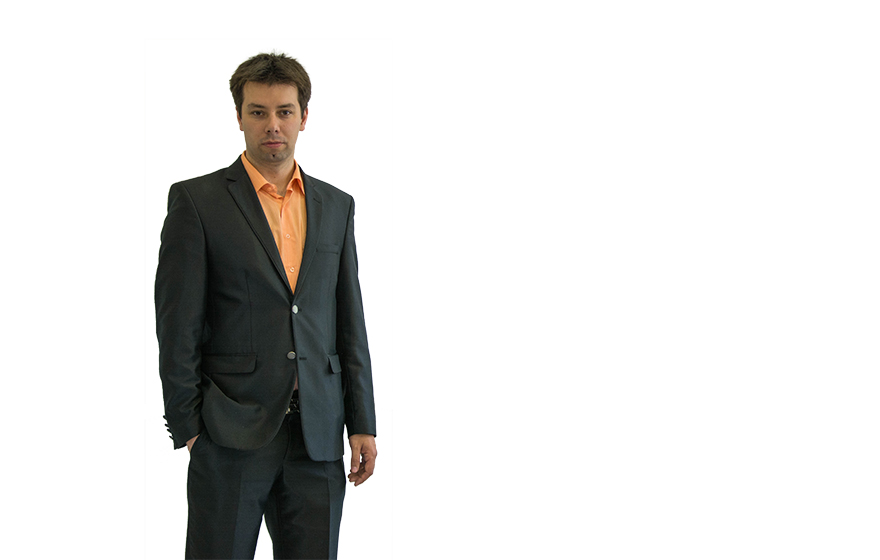 Academic degree, name, surname:
RNDr. Marek Vajgl, Ph.D.
Research interests and teaching:
formal logic, image processing, information systems
Phone number, mobile:
+420 553 46 1414
No record found. Database Maintenance.
Mikulík Jan
System for an intersection simulation using fuzzy approaches
Dedek Jan
Creation of complex information system for measurement and evaluation of races at karting circuit using statistical methods
Kuzník Jan
Sound recognition using Android Wear platform
Raunigr Petr
A Moodle addon as a tool for the automated verification of homeworks focused on Java programming
Mokroš Jakub
Discovery of weaknesses and security of IT infrastructure using penetration testing
Pařenica Jan
Parallel approach in RDF processing
Vereš Vít
Methodology for creating applications for Android using MVC and MVP
Burda Tomáš
Generating source code from a flowchart using subroutines
Davidová Alžběta
Detection and recognition of predefined patterns in video
Franěc Ivo
Creating a methodology for designing secure web applications in ASP.NET
Koliba Tomáš
Proposal of a framework to access knowledge resources for ontological information systems
Vít Milan
Development of an e-mail client with fuzzy search for the iOS platform
Belas Martin
Creation of IS supporting traffic situation representation
Bielczyk Daniel
Javascript Framework for HTML5 Canvas
Kulhánek Jakub
Methodological software support of application creation via OpenUP framework
Lacina Libor
Java Web server on Raspberry Pi
Žalmánek Vladimír
Data transfer optimization design on the Android platform
Kostera Luděk
Design and implementation of webcast solution
Šustek Josef
Design of web application for local multimedia processing
Bajer Michael
Design and implementation of client module for ASP.NET application used to support access to MS-SQL database
Matuška Jozef
Application of fuzzy algorithms on image compression
Stuchlik Petr
Creation of the methodology based on the OpenUp framework and its validation on IS implementation
Holub Lubomír
Analysis of .NET namespace System.Reflection and implementation of tool for documentation generating from source code
Meliš Zdeněk
Tools for visual programming
Miko David
A tool for songs evidence and presentation generation
Šrámková Marie
A plugin for IDEA to generate class diagram into PlantUML
Matula Marek
Web application for booking a sport centre with mobile phone confirmation
Škreko Marek
Development of cross-platform game with Solar2D
Krejčí David
Tool for data processing from OBD II device
Mikulík Jan
Development of a tool for interactive solution of traffic situations
Antošová Naděžda
Information system for crisis intervention centre support
Hajný Karel
Tools for data backup
Heczko Filip
Possibilities of an aspect-oriented approach in .NET
Komoň David
A tool for evidence and analysis of the transactions on a bank account
Kubný Richard
Cross-platform desktop application development using Electron and nw.js frameworks
Matějek Matěj
Online Task Management Tool
Kloss Jakub
New features of language Java 8 and their reflection into common programming tasks
Lang Jakub
Selected techniques to improve loading speed of web pages
Místecký Jan
Information system for support of food sales
Zatloukal Dominik
Creation of a Moodle module to support supervision of final theses
Zedek Filip
Creation of photobook with support of duplicit image detection and selection
Hardt Filip
Software for processing and publishing of sport statistics
Král Vítězslav
Tools for comparing code similarities
Kriebel Robin
Usage of Slick2D library for Java graphic applications
Raunigr Petr
Tools for automatic assessment of tasks from programming using the Moodle system
Baláš Petr
Evaluation and Administration of Critical Parameters for tests on silicon wafers
Balogh Martin
Web application development in ASP.NET using DevExpress components
Bárta Jan
Framework to realize fuzzy approaches in .NET environment
Glac Libor
Application for creating and modificating of data designated for Institute for Information on Education
Krönes Jakub
Information system for support service
Křibský Tomáš
Tools supporting enterprise shifts planning
Lazar Jan
Reviving ALFI plotter from brick-box Merkur under Windows
Rotter Roman
Building composite WPF applications using PRISM framework
Šebesta Štěpán
Possibilties of advanced translation of English text using IT
Tomeček Jaromír
Implementation of the fulltext site search within the WWW portal of the organization
Gahura Tomáš
Comparing the characterstics of SQL and SPARQL languages
Hireš Matěj
Visual Studio 2012 as a tool for creating modern applications
Kadlec Jan
Tools for creating of user documentation
Novák Vlastislav
Information and communication system for schools using ASP.NET
Romba Daniel
Techniques and tools used for payment methods in Internet environment
Rončka Václav
Usage of Windows Azure for typical applications development
Seyfriedová Zuzana
Measuring the code quality on the .NET platform
Sladká Karla
Tools for automated creation of source code documentation in the .NET environment
Sládková Vendula
Tools for designing and managing databases for the DB environment Apache Derby
Tonkovič Jan
Realization of design pattern MVC in ASP.NET platform
Anušev Nikola
Usage of C language for functional programming
Bešina Adam
Proposal a pay-per-click advertising campaigns
Burda Tomáš
Development of an IS for order management and online ordering under the .NET platform
Bůžek Jiří
Tools for documentation generation from files of Matlab environment
Kasaj Filip
Techniques for sending email messages through Windows PowerShell.
Klesnil Petr
Implementation of interactive simulation tool for Petri nets
Kloubec Jaroslav
Implementation of implementation for administration and accounting of catering
Ptošek Patrik
Creation of domain ontology from selected subjects of KIP PřF OU
Ryška Ondřej
Development of applications with 2D graphics support in Java programming language
Sýkora Ondřej
Implementation of IS supporting marketing of learning materials
Badurová Michaela
Usage of PowerShell shell to manage Windows operating systems
Bielczyk Daniel
New webdesign standards
Stupka Tomáš
Development of tool for editing and export of semantic tableau algorithm in formal logic systems
Žalmánek Vladimír
Development of a prototype of the information system for managing the lifecycle of service orders
Žingor Radek
Application development on Silverlight platform
Bernaťák Václav
Usage of NUnit framework in application development using TDD in .NET
Dubovská Veronika
Analysis and design of IS/IT for sales promotion oriented company
Hybš Marek
Application implementation in MS .NET using Windows Presentation Foundation
Kanis Martin
Application implementation in .NET using Windows Communication Foundation
Liberda David
Usage of XNA framework in game development
Mezenyi Tomáš
Using .NET assembly for cooperation with libraries of the other languages
Mičovský Jakub
Usage of .NET templates in application implementation
Mužný Vladimír
Application implementation in MS .NET using Windows Workflow Foundation
Šustek Josef
.NET applications porting to alternative architectures
Wieclaw Jan
Implementation of an information system for registration of parcel delivery
Bajer Michael
Visualisation of deduction formulas of sententional calculis using semantic tableau resolution algorithm
Botek Lubomír
Creation of Exercise book in programming languages C and VB.NET according to lecture notes of KIP/OBOP2
Čudek Vlastimil
The realization of infrastructure used for building of SW projects using virtal environment of VMWare products
Kovář Filip
Description of development of portal oriented solution in ASP.NET
Valchářová Kateřina
Creation of modules into portal solution VkPortal and comparision with other portal solutions
Damcová Kateřina
Installation, configuration and migration to Microsoft Exchange 2007
Jakubéczy Michal
Exercise book for programming in C and ASP.NET
Tetur Zdeněk
Description and usage of query language LINQ