UO > About > Organizational Structure > Faculties & Institutes > Faculty of Science > About > Organizational Structure > Departments & Centres > Department of Informatics and Computers
Rostislav Fojtík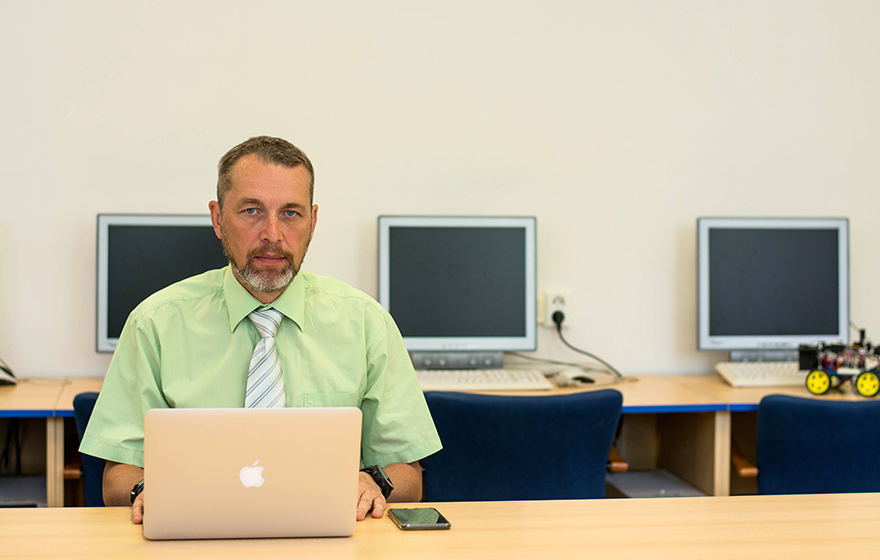 Academic degree, name, surname:
Mgr. Rostislav Fojtík, Ph.D.
Research interests and teaching:
Phone number, mobile:
+420 553 46 2176
No record found. Database Maintenance.
Černín Radim
ICT addiction among pupils of primary school
Vaněk Bohumil
Creation of educational escape games using ICT.
Pawlas Jan
Cross-platform development of mobile applications
Náhlý Matěj
Teaching the basics of programming using robot Ozobot
Košťálová Zuzana
A creation of educational materials for programming at secondary school
Jančar Tomáš
Creating Web Applications for comparison php frameworks
Palečková Zdeňka
Using tablets in education
Škuta Petr
The creation of educational materials for iPad
Bajtková Iveta
The usage of interactive board in the teaching of English
Jakubčíková Martina
Use of the mobile computers in the education
Kohoutková Michaela
Development and using of multimedia in education
Šmehlík Jan
Development of mobile applications for users with special needs
Madajová Michaela
The possible usage of LMS in the teaching at secondary schools
Mecová Michaela
Teaching English by means of e-learning
Merta Daniel
The assessment of students in the LMS
Wieclaw Jan
A comparison of frameworks for PHP language
Broda Lukáš
Using Multimedia in Education
Gahér Martin
Learning Management System
Novák Rostislav
The utilization of UMTS services
Rupec Stanislav
Information technology in biology teaching in high school
Hornsteiner Pavel
POSSIBILITIES OF E-LEARNING FOR TEACHING IN SECONDARY SCHOOLS
Jakubéczy Michal
Advantages and disadvantages of web-application developing in .NET
Kubinová Vlasta
Teaching Computer Programming at Secondary School
Nohel Petr
Hardware in education at primary school
Cundová Pavlína
Utilisation of ICT as didactic instruments in the education at basic school
Czeczotková Blanka
Use of ICT as a didactic instrument in high school education
Drozdová Michaela
Teaching of programming at secondary Schools
Gamrot Daniel
Simple Project Control Application Development
Jirásková Dita
The educational issues of programming at the basic schools
Sojková Lucie
Software in work teacher in primary school
Sulír Martin
Collection of examples and methodical guidelines for computer science education at high schools
Šamonil Karel
Usage of the internet in mobile devices
Nevařil Josef
Collection of examples and methodical sheets for the it tuition at the primary schools
Szkandera Pavel
Electronic signature usage
Vršovský David
Usage of computers in education at primary schools
Pulkrábek Roman
MOBILE DEVICES IN ELECTRONIC EDUCATION
Holuša Jan
Possibilities and characteristics of online courses creation
Šamonil Petr
Stream video for using in online education
Ebert Martin
Characterization and thein usage of harddisks
Backová Marie
M-learning in the education of children in special schools
Macháč Petr
Application to support lectures of numerical analysis
Pawlas Jan
Mobile applications for the use of optical codes
Suranovský Ladislav
IOS mobile application development tools
Bojanovský Jan
Comparison of CPU cooling methods
Jílek Jakub
Mobile Application Development Tools for Android
David Tomáš
The Comparison Between Swift and Java Programming Language
Kršák Juraj
Mobile application for optical code
Kakačka Denis
Mobile application for communication of children with special needs
Kletenský Lubomír
Mobile application for on-line library catalogue of the University of Ostrava
Zatloukalová Michaela
Reflex digital cameras and their accessories
Baránek Vojtěch
An appliction for managing sound profiles
Náhlý Matěj
Logo interpreter for tablets
Petřík Miroslav
Proposal wireless control using eight-bit MCU
Svoboda Patrik
Visualization of selected graph algorithms
Borovec Tomáš
Karel interpreter for tablets
Homola Dan
Characteristics and comparison of processors
Pavelka Michal
Creating materials for teaching object-oriented programming
Pektor Ondřej
Usage a tablet as a terminal for controlling prepared data presentation on TV
Dunička Robert
Design and development of e-shop
Glofák Vojtěch
An application for the promotion and development of phonation in children with special needs
Holišová Zdeňka
Comparison of lenses for digital SLR cameras
Jančar Tomáš
The use of frameworks in developing content management system
Juřicová Lenka
Development of testing application for tablets
Kolář Vítězslav
The integration of tablets into the industry
Kozel Martin
Creation of didactic software for iPad
Miltner Jan
Using IT for vertical movement detection based on evaluation of atmospheric pressure variation
Sonnek Jan
Tax filing and invoices creation by web application
Hausmeier Martin
Development of sports application for OS Android
Jančo Petr
Comparison of software for data erasing and recovery
Kaboň Lukáš
Comparison of digital mirror reflex
Kološ Jan
Development of Windows Phone 8 applications
Kuzník Jan
Using audio-visual tools in OS Android
Mikuš Pavel
Development of tablet applications for users with special needs
Molnári Štefan
Characteristic of project Mono
Paschek Matěj
Possibilities of using Apple products in the enterprise
Pavlásek Pavel
Development of Web for photographers
Rylko Stanislav
Tools for thinking maps
Skoumal Martin
Using virtualization tools
Dužík Daniel
Possibilities of HTML5 and CSS3
Kuzník Ondřej
Comparison of Cloud Computing services
Luštěk Václav
Development of games for iOS
Měch Václav
Development of Windows Phone applications
Šimek Vladimír
Development of games for operating system Android
Třečák Jiří
Development of application for iOS
Vereš Vít
Development of applications for MS Windows 8
Vít Milan
Comparasion of Objective-C and C++
Gardoš Robert
A comparison of SSD
Jozefko Vlastimil
Comparasion of development tools for C++
Lacina Libor
Arduino - server room Air-conditioning management system
Šmehlík Jan
Digital video on internet
Bednář Martin
Programming for OS Android
Hrneček Jan
A comparison of development tools for GUI
Klesniak Ivo
Comparison of graphics accelerators for personal computers
Krayzlová Lenka
Ajax Technology and its usage
Machová Gabriela
Digital cameras
Magula Petr
A characterization and a comparison of sources of energy
Mikoláš Michal
Project and implementation content management system for propagation science
Rozsypal René
Digital television on computer
Bako Daniel
Comparison of operating systems for mobile devices
Boharčíková Anna
Using Java application on mobile devices
Doležalová Andrea
Comparison of applications of mobile apparatus
Novák Rostislav
UMTS system development and measurement
Pomichálek Jan
Comparison of communicative parts of school information systems.
Stepaňuk Viktor
Characteristic and comparsion of types of memory cards
Stříž Eduard
Characteristics and comparison of hard drives
Šimša Tomáš
A comparison of printers for home
Vltavský Ondřej
Web application in personal use
Volný David
WYSIWYG editor for creation of valid XHTML
Kulla Lukáš
Confrontation and rating of graphic adapters
Kyněra Josef
A communication by means of coded SMS
Maťovka Marek
Search Engine Optimization
Mlčák David
Technology Web 2.0
Sasýn Kamil
Comparing VJM on various platforms
Veverka Martin
Characteristics and comparison of CMS and editorial systems
Vlašánek Pavel
Usage and characterization symmetrical block cipher
Fiala Jan
A source code to HTML convertor
Gamrot Daniel
Outliners Comparison
Machoczek Michal
GPS navigation
Stančík Bedřich
Progression, technology and LCD utilization
Šamonil Karel
Facilities for mobile internet connection
Šuška Pavel
Communications tools for mobile devices
Bujok Petr
Comparison programming languages Java and C Sharp
Franek Tomáš
Recording, compression and archiving of audio signal
Gažák Jan
Testing program for mobile device
Medlen Igor
Types and characteristics memory devices for mobile digital devices
Mik Tomáš
Using the PHP language for internet presentation
Novák Jan
DEMONSTRATE OF SORTING ALGORITHM
Szkandera Pavel
Types and Characteristics of Optical Storage
Žufan Tichý Radek
Electronic management of business agenda
Biedrawa Miroslav
Compilation of solved and annotated examples from the C language
Lekeš Tomáš
CRYPTOGRAPHIC ALGORITHMS AND THEIR USE
Moškoř Pavel
Production animations for e-learning
Nitrai Robin
Database of Online Tests for Course of Computers Architecture
Oliva Miroslav
Noise reduction in audio signal
Verner Jan
Information System for Customer Relationships in Small Enterprises
Main solver
Mgr. Rostislav Fojtík, Ph.D.
Provider
OP VK (Vzdělávání pro konkurenceschopnost)
Main solver
Mgr. Rostislav Fojtík, Ph.D.
Provider
Postdoktorský projekt GA ČR