UO > About > Organizational Structure > Faculties & Institutes > Faculty of Science > About > Organizational Structure > Departments & Centres > Department of Biology and Ecology
Václav Krpeš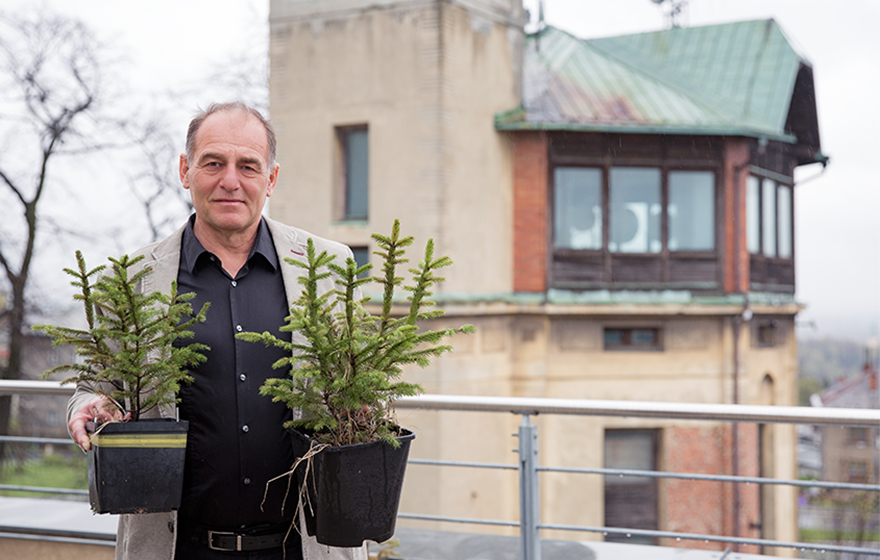 Academic degree, name, surname:
doc. Ing. Václav Krpeš, Ph.D.
Research interests and teaching:
Phone number, mobile:
+420 553 46 2324
No record found. Database Maintenance.
Bilková Aneta
The effect of ozone on the Norway Spruce (L.) Karst. under different growth conditions
Chorzempová Vladěna
Monitoring of seasonal changes of photosynthetic pigments of spruce spruce alpine provenance in the mountain range of Malý Smrk
Kořínková Kateřina
Influence of wavelength of light and colour temperature on the production of photosynthetic pigments in selected strains of photoautotrophic organisms
Feber Kamil
Effect of oxidative stress on the fatty acids composition in the mesophyll tissues in selected experimental plants
Michna Karel
Effects of oxidative stress on the selected plant taxa
Divácký Antonín
Analysis of radial growth of Norway spruce Picea abies (L.) KARST.
Grygová Lucie
Quantification of symptoms of oxidative stress damage to the needles Picea abies (L.) KARST.
Sluková Veronika
Optimization condition of growing Aldrovanda vesiculosa in vitro
Korbélyiová Marie
Verifcation of the vertical elelectrophoresis of photosyntetic proteins
Pěnčíková Marie
The dynamics of changes in concentrations of photosynthetic pigments in selected individual of adult spruce on the experimental work Bílý Kříž
Myslikovjan Tomáš
Analysis of Radia Growht European beech Fagus sylvatica in National Nature Resort Salajka
Kramná Lucie
Synthesis and degradation of the selected photosynthetic pigments in needles of picea abies (L.) Karst.
Tesarčík Tomáš
Aplikace metody 1D-SDS PAGE elektroforézy na Picea abies (L.) KARST
Byrtusová Michaela
The effect of spectral composition of LED radiation source on Nicotiana tabacum growth under an increased oxidative stress
Flögelová Kateřina
Biometric evaluation of growth of Arabidopsis thaliana depending on wavelength of visible light and colour temperature
Bilková Aneta
Analysis of photosynthetic pigments after exposure to defined levels of ozone
Chorzempová Vladěna
Evaluation of the impact of antibacterial effect of sage extract on selected bacterial cultures
Fajkusová Soňa
Cultivation of plant cell cultures with the photosynthetic activity
Jaremčuková Lucie
Determination of in vitro antibacterial activity of St. John´s wort extract on selected bacterial cultures
Kořínková Kateřina
Effect of changes in cultivation conditions on the viability and growth rate of plant cell cultures
Moravcová Veronika
Synergy action of water saturation deficit and extreme irradiation on the activity of stomata
Hluchníková Barbora
Impact of oxidative stress on the viability of the selected plant cell culture
Franková Alena
Energy of germination and kinetics of Nicotiana tabacum pollen tube growth in experimental conditions. Analysis of competitive relations and growth orientation.
Poledníková Markéta
Influence of toxic heavy metals´ impact on Cyanobacteria cultivations
Váňová Lucie
Dynamics of radial growth of spruce spruce in the extreme conditions of the selected habitat Beskydy Mountains
Vážná Petra
Influence of different methods on seed germation Sarracenia
Vlčková Martina
Oxidative stress in mesophyll tissue of Norway spruce with climax growth in mountain areas
Byrtusová Dana
The Ageing Process and Norway Spruce (Picea abies /L./) Leaf-fall
Pivoňka Denis
Effect of abiotic stress on changes in concentration of photosynthetic pigments juvenile growth phases of Norway spruce Picea abies (L.) KARST. selected alpine population
Tkáčová Marcela
Structural analysis of needles in Norway spruce Picea abies (L.) KARST
Kokešová Nikola
Resulting nature´s relationships of forest typ 5S1 in forest location Moravskoslezské Beskydy
Michna Karel
Damaging effects of reactive oxygen
Trombik Jiří
Stability of spruce forests in the Beskydy Mts: an analysis of wind, snow and dry damage
Divácký Antonín
The impact of ozone on radial growth of a spruce tree in the top part of Lysa hora in The Beskydy
Grygová Lucie
Detrimental consequences of ozone on the forest stands
Sluková Veronika
Ecology and growing choice taxonomy part of genus Aldrovanda culture in vitro
Tylová Petra
Usage of microscopic techniques in analysis of damage of spruce needle
Vaculíková Pavla
Changes of photosynthetic radiation and kinetics of stomata regulation leafs
Čtvrtníčková Klára
THE SURFACE REPRESENTATION OF THE WOOD AND ITS THREAT IN THE CHOICE PART OF LANDSCAPE PŘEROV
Dendisová Kateřina
EVALUATION OF HEALTH SITUATION OF NORWEGIAN SPRUCE USING HISTOLOGICAL METHODS
Kadlecová Hana
HYGRIC REGIME OF SOUTH MORAVIAN FLOOD PLAIN FOREST IN ITS BORDER HIGH - RISE GRADIENTS
Papánková Andrea
THE ECOLOGICAL REQUIREMENTS OF EUROPEAN SILVER FIR (ABIES ALBA MILL.) AND POSSIBLE REASONS OF THE LACK OF ITS NATURAL REGENERATION IN NATIONAL NATURE RESERVE SALAJKA